The title A Strange Disappearance (1879) might be applied to the literary reputation of its author. The name of Anna Katharine Green (1846-1935) is almost invariably followed by the epitaph 'the mother of detective fiction.' This young woman, born in Brooklyn, the Puritan daughter of a New York lawyer, dreamed of becoming a poet. When her verses failed to find a publisher she turned her pen to a more profitable genre and, in 1878, she published The Leavenworth Case, a fully-formed detective novel with a body in the library.
According to an interview Green gave in 1929, this novel was "written during an interval of tedious inactivity after she had graduated from the Ripley Female College at Poultney, Vermont." (Woodward, p168) Green graduated in 1866, it was clearly a rather long interval of inactivity. According to Patricia D. Maida, Green was "an American woman who single-mindedly pursued a literary career, despite the odds against her." (Maida, p105). These odds included a father who did not condone her choice of genre. Green wrote The Leavenworth Case in secret, only her stepmother knew about it (Maida, p22). It took her over six years to complete the manuscript (Ibid.). Green took her inspiration from the novels by Emile Gaboriau (1832-1873) and calculated that a mystery story would appeal to newspaper readers (Maida, p.10) and therefore find a publisher and an audience. Green was determined to forge a literary career for herself. There were not many job opportunities for young, unmarried, middle-class women in the 1870s, and being a celebrated authoress was considerably better than languishing in the family home at Brooklyn Heights. With the publication of The Leavenworth Case Green went from a complete unknown to a celebrity almost overnight (Maida, p4).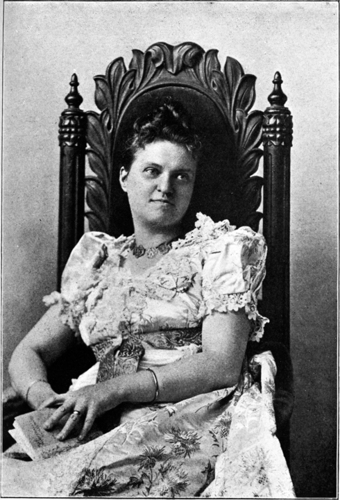 Anna Katharine Green, picture from Library of Congress. Source: http://www.motherofmystery.com
Green's works strongly influenced Agatha Christie. She was also admired by Wilkie Collins and Arthur Conan Doyle (Maida, p1 Green had a long career and produced thirty-five novels. Despite her clearly recognized position in the annals of Victorian detective fiction, it appears that not much has been written about Green herself. As far as I know, there is no critical biography of her; there are not many academic studies of her works. The one book about her, Patricia D. Maida's Mother of Detective Fiction: The Life and Works of Anna Katharine Green (1989) has a 'selected bibliography' of nine (!) works about Green. Despite this, Maida's short book is an excellent introduction to Green covering her life neatly in a series of chapter arranged around aspects of her writing. More useful articles and further information on Green are available at http://www.motherofmystery.com.
It is curious why someone so well known and recognized as such a significant figure in the development of a popular genre, has attracted so little attention. The reason may lie in Green's writing. Perhaps Green is just too dull to merit detailed analysis?
In the Foreword to her book on Green, Maida writes: "To nineteenth-century readers, Green offered a challenging puzzle and well developed characters. Men, as well as women, delighted in her imaginative conundrums as they joined in the game of detection. ... Modern readers may still read Green's work for plot and characterization, but as social history her fiction is even more significant." (Maida, p2)
Maida makes no positive claims about the quality of Green's writing. Green can plot a mystery with clues, and she writes about her own time. But that seems to be the extent of her literary merits. None of her novels are in print (they are however readily available as e-books, thanks to Kindle's extensive scanning programme of out-of-copyright fiction). Even in 1929, when Kathleen Woordward interviewed the 83-year-old Green for Bookman magazine (New York, Oct 1929, Vol 70, pp168-170), she approached Green as a relic of a by-gone age: "I might have been in the company of any one of Barrie's lavender-perfumed ladies of undeniable refinement." Together the interviewer and Green lament "the decline of the detective story from an art to a process of mass-production." Woodward concludes: "We seem to have lost the attitude of high seriousness toward the mystery story which characterizes the work of Anna Katharine Green and her contemporaries."
This would suggest that by 1929, Green was seen as old-fashioned. In 1989, Patricia D. Maida confirms this assessment: "By the turn of the century ... her popularity had begun to wane. To a new generation, her style was heavy compared with that of rising authors like Mary Roberts Rinehart." (Maida, p30).
Later, Maida contrasts Green's cumbersome, formal and convoluted style with Rinehart's more colloquial and straight-forward prose (Maida, pp.53-4), and she concludes: "And this may well be the nub of the issue - that Green's language did not change with time, that even though she was still publishing in the 1920s, her fiction is written in the linguistic style of the nineteenth century." (
Ibid.
)
I would like to argue that the cause for the 'strange disappearance' of Anna Katharine Green from our bookshelves is because Green is neither fish nor fowl. She writes like a Victorian, with all the delicious melodrama, Gothic thrills and decorous turns of phrase employed by British sensation novelists. But her plots belong to the later golden age of detective fiction (between the World Wars).
Readers may have abandoned Green because her style is old-fashioned and awkwardly Victorian compared to other writers of similar detective stories (Agatha Christie most notably). Academic students of literature may have equally shied away from her, because she is hard to pigeon-hole. As a Victorian author she is dull, because she lacks much of the flamboyant and romantic plotting of sensation fiction. Her stories are focused on the puzzle of a single crime and calculated to tie up all the loose ends neatly. As a modern detective story writer she is also dull; her flowery language and melodramatic scenes appear needlessly exaggerated and impede the movement of the plot.
Back in 1878, The Leavenworth Case launched Green's career and became a best-seller. It remains her best known work. This success of a debut novel had to be followed up with something equally good to secure her future as a popular authoress. Green's second novel, published in 1879, was A Strange Disappearance. I wanted to find out if the language of sensation fiction, which Green employs, can turn a plot of a 'classic' detective story into a thrilling experience.